Renal Cell Carcinoma Study
Nephron-Sparing Surgery as a Treatment
Renal cell carcinoma (RCC) is sixth most common cancer in US men, accounting for 5% of cases, and the 10th most common in US women, accounting for 3% of cases. The American Cancer Society estimates that in 2017 there will be 63,990 cases (40,610 in males and 23,380 in females) of malignant tumors of the kidney diagnosed, with 14,400 deaths (9470 in males and 4930 in females).1 A majority of tumors are now detected in an early stage due to the use of ultrasound and computerized tomography (CT) for other medical reasons.2
Traditionally, a small renal mass (SRM) is considered to be less than 4cm in size.3 The majority of SRMs will be RCCs; however, many, approximately 20% will have benign histology.3 Radical nephrectomy, or complete removal of kidney, has for long been considered as the standard treatment. Complete kidney removal has associated risks such as increasing the need for dialysis in the future. Unfortunately, partial kidney removal or nephron sparing surgery (NSS) is widely underutilized. An evaluation of a nationwide hospital database determined only 9% of patients with surgically treatable renal tumors were treated with NSS.4 There are varied reasons for the underuse of NSS; the complexity of the surgery in a non-academic center, and an under appreciation for the impact of radical nephrectomy (RN) on health outcomes.
Criteria
We retrospectively evaluated all patients that underwent a nephrectomy procedure at Montefiore St. Luke's Cornwall from January 1, 2012 through December 31, 2016.We then divided the cohort into patients that had T1a renal cell carcinoma based on pathological evaluation. We identified a total of 26 patients who underwent a partial or radical nephrectomy during this time period. Of the 26 patients that underwent renal surgery, 20 (77%) patients underwent nephron sparing surgery. Of the 6 patients who underwent radical nephrectomy, one patient was persistent on pursuing radical surgery, despite the surgeon recommendation of partial nephrectomy. No recurrence of tumor noted on patients who had undergone NSS, as of date of study.
Compliance
Despite the NCCN recommendation of pursuing NSS for tumors ≤ 4cm, less than 10% of patients undergo NSS in the US. This is the case primarily due to several reasons such as limited resources, surgical complexity of the case and ­­­­­­­postoperative care. Although our cohort is a small one, we have been able to adhere to this guideline over 75% of the time.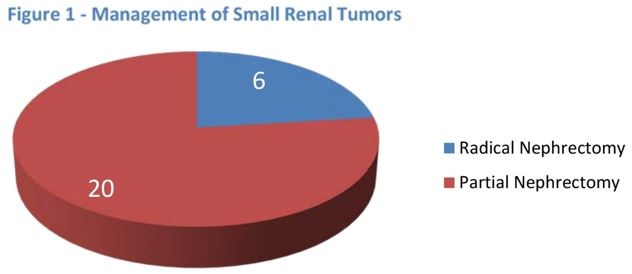 Discussion
Radical Nephrectomy has been the gold standard treatment for locally confined renal cancer irrespective of its size in the setting of a normal contralateral kidney. Improved imaging modalities have substantially increased the number of incidental, small renal tumors.
Compliance to National Comprehensive Cancer Network (NCCN) Guidelines in established literature is roughly 9%. In our cohort, our compliance 20 of the 26 patients (77%) with adherence to NCCN Guidelines was better than the national incidence. Of course, one must consider complexity of the surgical case, including location of tumor which can exclude qualification of nephron sparing surgery. NSS is technically more challenging than complete removal of the kidney by radical nephrectomy. But intraoperative and postoperative morbidity has substantially been decreased by improved surgical techniques in the last years. Studies have shown that patients with more normal functioning renal tissue, NSS have a better quality of life than those with Radical Nephrectomy. Multiple studies have demonstrated a benefit in survival for patients treated with NSS compared to RN looking at tumors with a limit ≤4 cm in diameter. We need to continue our efforts in maximizing NSS to our patients in our community.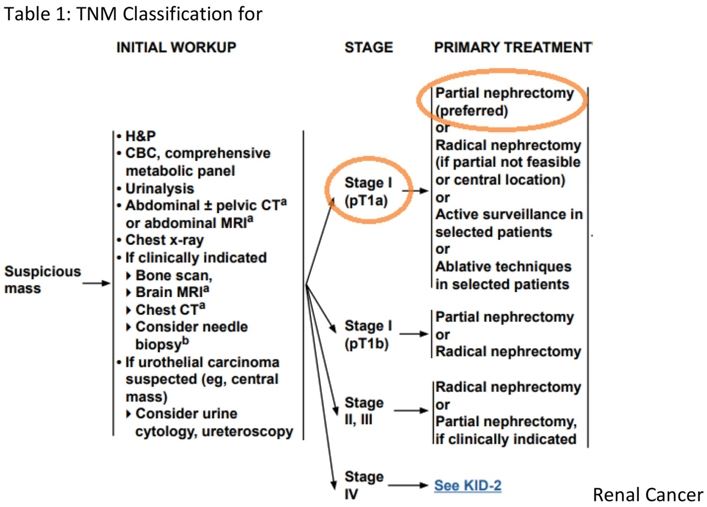 Submitted,
Jaspreet Singh, DO
Department of Surgery, Division of Urology
Cancer Liaison Physician
Presented to Cancer Committee:
Dr. Jaspreet Singh is a board certified urologist. He obtained his medical degree from the New York College of Osteopathic Medicine and completed his clinical internship at Brookdale University Hospital and Medical Center followed by general ​surgery and urologic surgical residencies at Albert Einstein Medical Center, and Hahnemann University Hospital. Dr. Singh has also completed clinical externships at Memorial Sloane Kettering Cancer Center and the Children Hospital of Philadelphia during his residency. Dr. Singh pursued additional fellowship training at Thomas Jefferson University Hospital in PA. His training includes experience and proficiency with minimally invasive robotic and laparoscopic procedures. He has a special interest in the diagnosis and treatment of ED (erectile dysfunction) prostate, bladder and kidney cancers, and urinary incontinence. Throughout residency and afterwards, Dr. Singh has sought to further advance his knowledge and surgical skill by continued training under the nation's leading urologists and gynecologists.