MSLC Patient Portal
Convenient & Secure Access to Your Medical Information
Welcome to the Montefiore St. Luke's Cornwall Patient Portal.
Please be advised that all patient invoice payments should be made via the Montefiore St. Luke's Cornwall Payment Portal, which is accessible on this website under the "Pay My Bill" Tab, or directly to https://montefioreslc.mypatientacct.com/ ONLY.
No payments should be directed to any other site, as there is no other website authorized to accept payments on behalf of Montefiore St. Luke's Cornwall.
If you need a more accessible version of the Patient Portal, please click on the link below
UPDATE AS OF JULY 24, 2021
Montefiore St. Luke's Cornwall has recently upgraded our Information Technology Infrastructure to EPIC. MSLC now has an enhanced Patient Portal through My Chart. Please visit the link below to enroll.
Please note, Montefiore St. Luke's Cornwall is in the midst of migrating data to My Chart and this process will take some time. To access previous patient records, please continue to utilize the Patient Portal linked above. Thank you for your patience as we upgrade our system.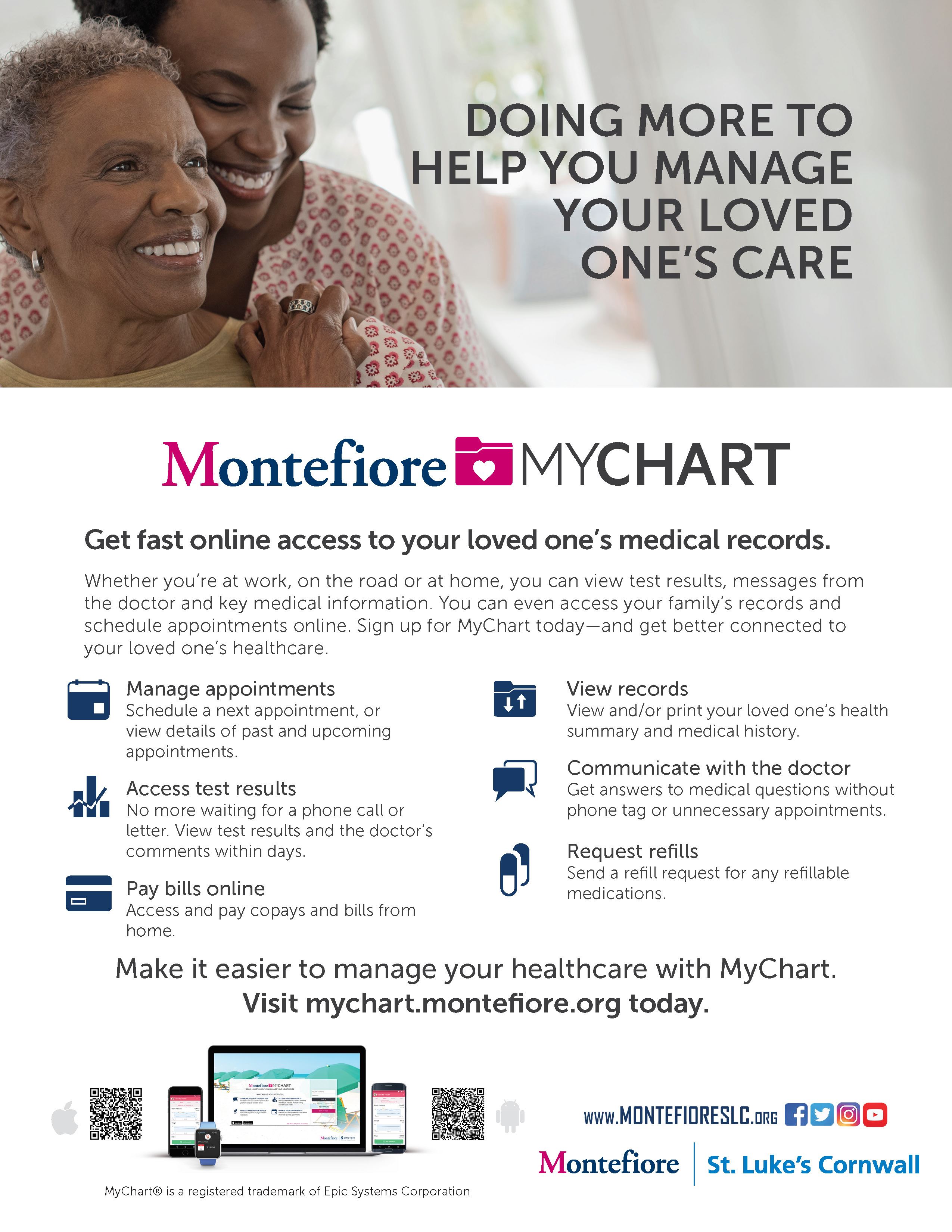 For more information, including enrollment details, please contact our Medical Records at 845-568-2520.
Please note: In order to enroll in the MSLC Patient Portal, we must have your email address on file in your electronic medical record. The email address needs to be specific for one person (you) in order for your Portal enrollment to be successful. You can update your email address in person with our Registration staff when you are registering for a hospital visit. Otherwise, please visit the Medical Records Department at Montefiore St. Luke's Cornwall. You will be required to present and photo I.D.
Once you have enrolled in the MSLC Patient Portal, you will receive a one-time user id and password, which will be sent to your email address. This will allow you to log into the Portal with 99 hours and reset your own log-in id and password, as well as define personal security questions. Once you set up your personal log-in and password, you can access the MSLC Patient Portal at any time via the Blue Button at the top of this page.
Montefiore St. Luke's Cornwall encourages all patients to enroll in the Patient Portal as it provides the opportunity for patients and families to actively participate and their care.
Additional Information is available below:
Non Discrimination Notice: