Important Changes to Our Visitation Policy- Effective February 17, 2022
Effective February 17, visitation will occur from 1:00 pm to 8:00 pm daily.
All Visitors:
Must be fully vaccinated OR
Test negative for COVID within the past 48 hours OR
Tested positive for COVID greater than 10 days ago but within the past 90 days.
In addition, visitors MUST UNDERGO COVID SYMPTOM AND TEMPERATURE CHECKS UPON ENTERING THE FACILITY.
Only COVID negative patients will be permitted visitation; visitation for COVID positive patients will only be authorized on a case by case basis through CNO or designee
Current guidelines for visitation include the following:
For ALL Outpatient areas, (1) support person per-patient unless the patient is under the age of 18, then both parents, or the legal guardian may accompany the patient.
For ALL General Inpatient areas, (1) support person per-patient.
For those under the age of 18, both parents or the legal guardian may accompany the patient.
For the Intensive Care Unit, (1) support person unless special circumstances exist. Special circumstances are predetermined and, on a case-by-case basis at the discretion of the hospital's leadership.
For the Labor/Delivery & Postpartum Units, (2) support persons, including a doula if requested, may accompany the patient throughout labor, delivery, and the postpartum period, including recovery, until discharge to home.
EXCEPTIONS TO THE 1 SUPPORT PERSON LIMIT INCLUDE:

End of life
Labor and Delivery and post-partum unit
Patients under the age of 18
Patients with Intellectual and/or Developmental Disabilities (I/DD)
Patients with cognitive impairments.
PLEASE NOTE: Visitors must always wear face coverings and will be provided with and asked to wear additional personal protective equipment (PPE) when appropriate to the patient's condition or diagnosis(es), and in accordance with the Department of Health, Centers for Disease Control and Prevention (CDC), and hospital's guidance, regulations and policies.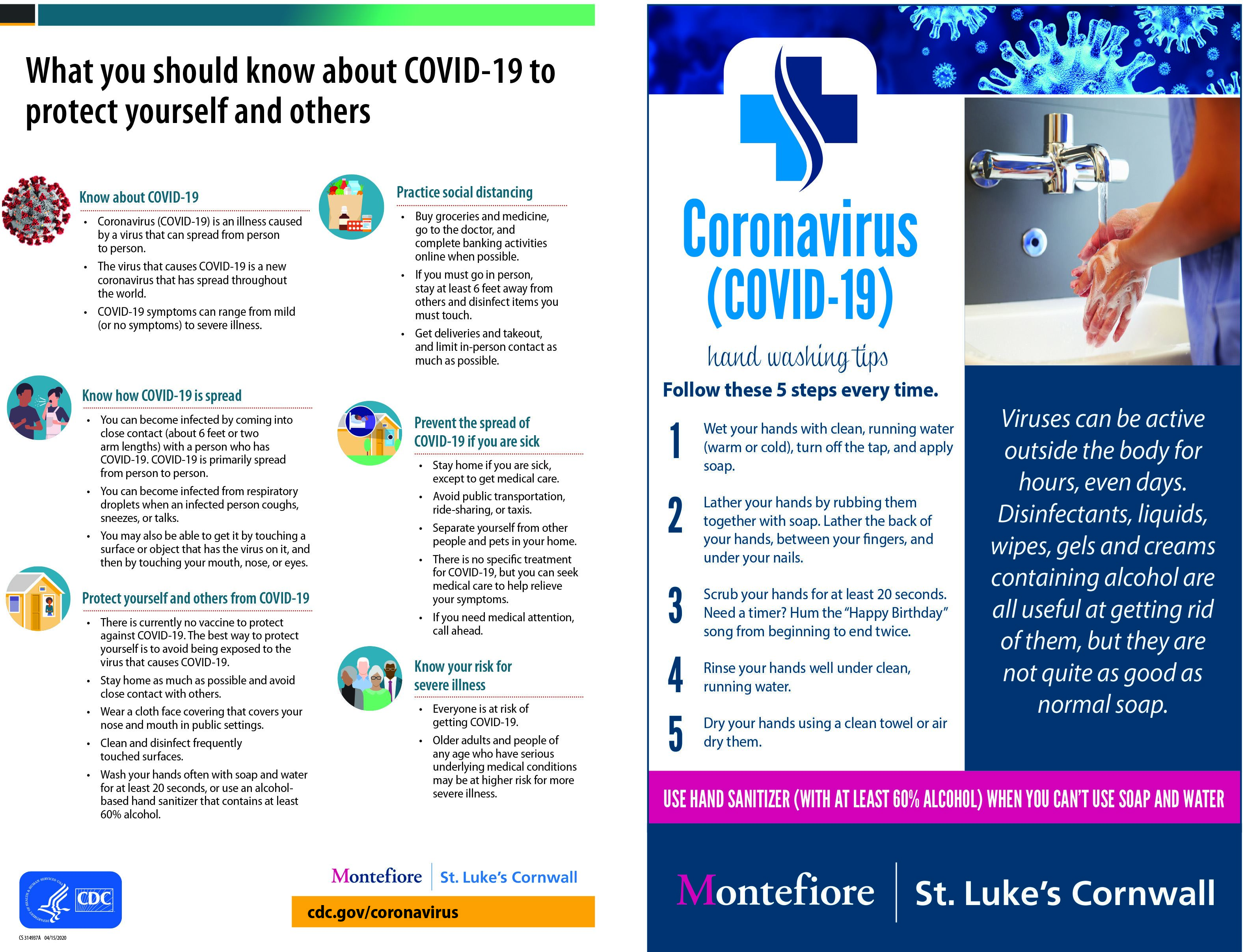 Visitor Restriction Information
If you are sick, please refrain from visiting
MSLC is a weapon free environment
MSLC is a smoke-free hospital
As part of Montefiore St. Luke's Cornwall's (MSLC) ongoing efforts to ensure the safety of its patients, visitors and staff, the hospital has implemented a new Visitor Management System (VMS) to assist in identifying visitors and account for their time in the building.
The VMS requires visitors to present a valid, government issued ID, such as a driver's license, when entering the building. The ID is scanned, and information will be electronically transferred directly onto the visitor pass.
This system maintains a secure environment by capturing visitor information accurately, while keeping all information confidential.
Please see the Parking section for those options