Important Changes to Our Visitation Policy- Effective March 30, 2023
Montefiore St. Luke's Cornwall has updated our Masking Policy based on the level of community transmission. You may recall, there are four levels of Transmission; Low, Moderate, Substantial, and High. Orange County is currently at the "moderate' level. Going forward, the areas/situations highlighted below will be required to wear masks at all times regardless of Transmission Levels. All others may mask at their discretion. When the Transmission levels are at Substantial or High all others must wear a mask. Visitors will be directed to mask based on their destination within the hospital.

PLEASE NOTE: Anyone who has not been vaccinated against the flu must continue to wear a mask until flu season is declared over regardless of the area working.
Visiting hours will be 9a-9p unless otherwise authorized by Chief Nursing Officer (CNO) or designee.
All Visitors:

Must be fully vaccinated OR
Test negative for covid within the past 48 hours OR
Must have tested positive for COVID greater than 10 days ago but within the past 90 days.

Visitors are limited to two persons at a time unless at hospital's discretion a limited number of additional persons are determined to be appropriate to allow at the bedside.
All visitors must be 18 years of age or greater except in rare exceptions as determined by the CNO or Designee.
Patients undergoing same day procedures may be accompanied to the facility by a companion and that companion may remain with the patient through the initial intake process and may rejoin the patient post procedure; the companion may wait in our front lobby during the procedure provided there are chairs available to assure that social distancing of six feet is maintained.
Visitors may not be present during procedures and in the recovery room except for pediatrics, childbirth, and patients with an intellectual, developmental, or other cognitive disabilities listed in the New York State "Revised Visitation Guidance"
Pediatric patients may have two designated support persons with them at all times.
For Labor and Delivery, a maximum of two support persons, plus a doula if requested, may accompany the patient throughout labor, delivery, and the postpartum period, including recovery, until discharge to home. The support persons can be the patient's spouse, partner, sibling, parent, or other persons of their choice.
Patients with Intellectual and/or Developmental Disabilities (I/DD) and patients with cognitive impairments including dementia, may designate one support person to remain with them throughout their hospitalization, and an additional visitor may also be with the patient during hospital-designated visiting hours.
Two support persons may be designated to remain with patients in imminent end-of-life situations.
Visitors are provided with and must wear appropriate personal protective equipment (PPE) as recommended by the Department of Health and the Centers for Disease Control and Prevention.
Visitors who fail to wear a face mask and other PPE will be asked to leave the facility.
Health care providers should thoroughly discuss the potential risks and benefits of the visitor's presence with visitor and, depending upon the patient's condition, the patient.
Once in the facility, visitors must remain in the patient's room throughout the visit except when directed by hospital staff to leave during aerosol-generating procedures or other procedures during which visitors are usually asked to leave.
MASKS ARE REQUIRED IN THE FOLLOWING AREAS:
Critical Care Areas, specifically ICU, NICU, CVIR
Emergency Department
Perioperative Services, specifically: Pre-Admission Testing, Operating Rooms, PACU, Same Day Surgery, & Endoscopy
Areas in which any patients are being treated for active cancers, in both the inpatient and outpatient setting - and specifically - the Littman Cancer Center and Infusion Suite
For any patient who is immunocompromised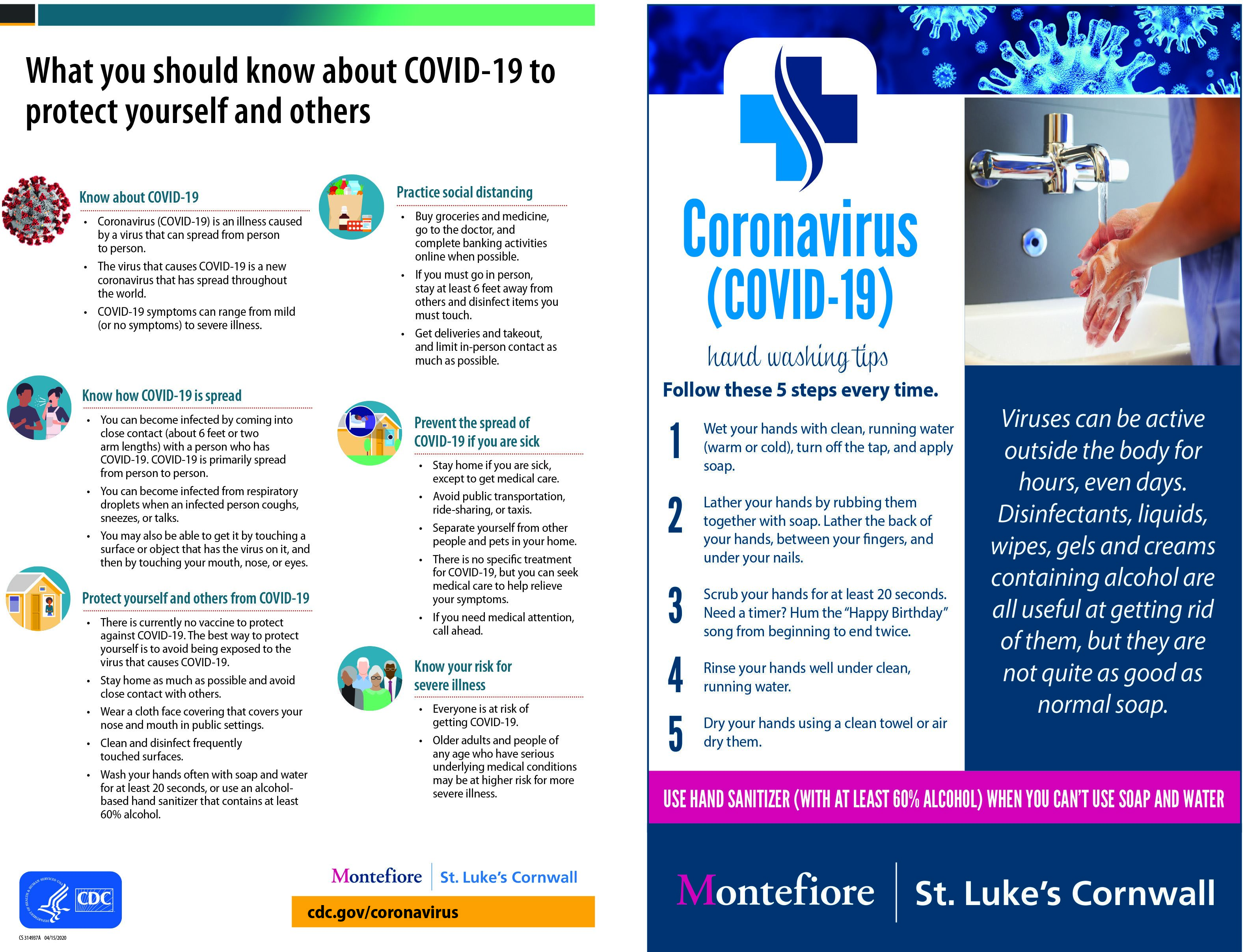 If you are sick, please refrain from visiting
MSLC is a weapon free environment
MSLC is a smoke-free hospital
As part of Montefiore St. Luke's Cornwall's (MSLC) ongoing efforts to ensure the safety of its patients, visitors and staff, the hospital has implemented a new Visitor Management System (VMS) to assist in identifying visitors and account for their time in the building.
The VMS requires visitors to present a valid, government issued ID, such as a driver's license, when entering the building. The ID is scanned, and information will be electronically transferred directly onto the visitor pass.
This system maintains a secure environment by capturing visitor information accurately, while keeping all information confidential.
Please see the Parking section for those options