Outreach & Education
Cancer Screenings & Prevention in Cornwall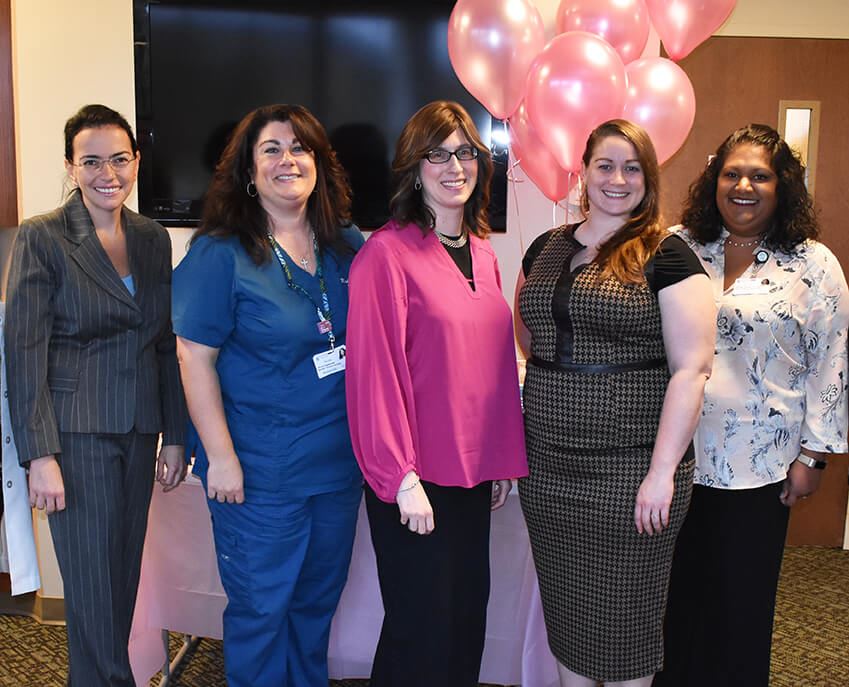 As Montefiore St. Luke's Cornwall continues to build its Oncology Program, a major focus for 2017 was to expand the volume of Prevention Programs and Screenings, and evaluate the overall effectiveness of each to strategize how to best move forward.
MSLC Oncology Screenings were held in the following areas: Breast, Oral and Prostate. The Littman Cancer Center team, has been partnering with the Orange County Cancer Services Program and the YWCA for several years to provide free breast screenings on a consistent basis to residents in the communities we serve. The breast screening program offers clinical breast exams with mammography, and is eligible to patients who are at least 40 years old and uninsured. In 2018, MSLC will be working to expand these screenings to include fundamental breast health and screening education along with the actual screening itself. Anyone having an interest in this program, please contact Karen Ciardullo, Clinical Coordinator of Oncology Services at kciardullo@MSLCospital.org.
Cancer Screenings
Another screening program for 2017 was an Oral Cancer Screening in April, performed by Dr. Craig Berzofsky, an Ear Nose and Throat specialist at MSLC. Dr. Berzofsky screened 12 patients, with all available appointment slots filled. Each patient in need of follow up was directly​connected with a member of the MSLC clinical team to continue their care.
Dr. Jaspreet Singh, MSLC Urologist and Co-Medical Director of the MSLC Urology program, offered a prostate screening in September 2017. The screening was extremely successful and much like the Oral screening, was "sold out" with all appointments booked. Dr. Singh also serves as the Cancer Liaison Physician at Montefiore St. Luke's Cornwall.
Cancer Prevention
In addition to screenings, the MSLC Oncology team also offered several prevention focused educational programs throughout the entire 2017 calendar year. Robyn Kelley, Oncology patient Navigator offered general cancer education and prevention information to attendees at the West Point Girls in Sports Clinic in February 2017, as well as local students at the Orange County Community College Health Fair in March 2017. In April, Robyn attended the Downing Park Walking Club Kickoff, which included several community members, where she shared prevention education to those who visited the MSLC informational table. In May, we attended the ShopRite Health Fair in Vails Gate, NY where we provided cancer education and prevention information to those in attendance.
Expanding Our Team
In October 2017, MSLC held an open house event to welcome several new members to the Oncology Team at the Littman Cancer Center. In addition to the welcoming of our new team members, Dr. William Cieplinski hosted a lecture on cancer prevention to more than 25 attendees. To conclude our prevention program efforts in 2017, Deb Brock, an RN at MSLC, gave a presentation on Lung Cancer Causes and Prevention at the Beacon Library in November.
This particular topic is a strong area of focus for Montefiore St. Luke's Cornwall, as we launched the Early Lung Cancer Screening Program in 2015, which explores the early detection and treatment of lung cancer and other diseases associated with smoking through the use of low-dose computer tomography (CT) screening.​ To learn more about this program, please MSLC (845) 568-2011. We will continue to build the MSLC Cancer Prevention programs in 2018, along with a strong focus on breast, lung, and prostate screenings.​​
In October 2017, MSLC welcomed Dr. Veronica Ferencz to the Littman Cancer Center team, bringing comprehensive breast surgery back to our community hospital. This will be a major area of focus for prevention in 2018.
Raising Cancer Awareness
Another area of focus in 2017 was to redesign the promotional materials, specifically the hospital's web pages to reflect the current oncology program and team. In coordination with the MSLC Oncology Team, the community outreach coordinator and the MSLC marketing department, we've worked to significantly expand the breadth of information on the hospital's website regarding the oncology services provided and a lengthy description of those services, providing patients with everything they may need to know when choosing where to seek their cancer care.
Collectively as a team, we were able to completely overhaul the information that lives on the site, to include an overview of the current team, a description of Cornwall Radiation Oncology Services, Infusion Therapy, Palliative Care and other support services as well as additional community resources and genetic counseling opportunities available. As the program continues to grow, our internet site will be updated to reflect such growth. This remains an important piece of communication with the public on cancer services available at ​Montefiore St. Luke's Cornwall.
For more information on ​MSLC oncology education and screening programs, please contact (845) 784-3850. To view a copy of the 2018 MSLC Oncology Annual Report, please click here: