Post Graduate Pharmacy Education
Message from the PGY-1 Pharmacy Residency Director and Director of Pharmacy Services Mitch G. Sobel, BS Pharm, RPh, MAS, FASHP, CPGx and PGY-1 Pharmacy Residency Coordinator and Clinical Pharmacist Maggie Montgomery, PharmD, BCPS
The PGY1 pharmacy residency program at Montefiore St. Luke's Cornwall Hospital builds on a Doctor of Pharmacy (PharmD) education and experiences to contribute to the professional development of clinical skills, medication-related care of patients, pharmacy leadership, obtain eligibility for board certification, and provides expertise to participate in a postgraduate year two (PGY2) pharmacy residency program.

The Mission of The Department of Pharmacy Services will improve the lives and well-being of the patients we serve through dedicated service, continuous quality improvement, and vigilant promotion of safety. The Department of Pharmacy Services is committed to excellence in clinical, academic, and innovative practices.

The Vision of the PGY-1 Pharmacy Residency Program is to educate and instill best practices, patient care, and quality standards for new pharmacy practitioners and develop clinical and leadership skills that contributes to the academic, scientific, and patient communities. The Montefiore St. Luke's Cornwall Hospital Department of Pharmacy Services wishes to set a standard for best practices, professional development, academic excellence, and high-quality patient-centered care.
Mitch G. Sobel, BS Pharm, RPh, MAS, FASHP, CPGx, Director of Pharmacy Services, PGY-1 Pharmacy Residency Program Director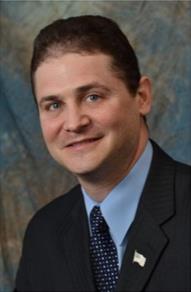 Mr. Sobel is a graduate of the University of the Sciences in Philadelphia, Philadelphia College of Pharmacy, and received his Masters in Administrative Science at Fairleigh Dickinson University. He is a past Resident from the American Society of Health-System Pharmacists (ASHP) PGY-1 Residency Program. He is a graduate of the ASHP Pharmacy Leadership Institute at the Boston University School of Management. He is a Certified Pharmacogenomacist and received his training from the University of Pittsburgh School of Pharmacy and NACDs. Mr. Sobel serves on the New Jersey Board of Pharmacy and served on numerous National Association of Board of Pharmacy Committees. He is an Adjunct Clinical Professor for the Fairleigh Dickinson School of Pharmacy teaching Law and Leadership. Mr. Sobel has worked in numerous pharmacy corporate, director, operations, managerial, consultant, regulatory, and educator roles throughout his 30-year career. He is a strong advocate for educating and mentoring our future and present pharmacy professionals.
Maggie Montgomery, Pharm.D., BCPS, Clinical Pharmacist, PGY-1 Pharmacy Residency Program Coordinator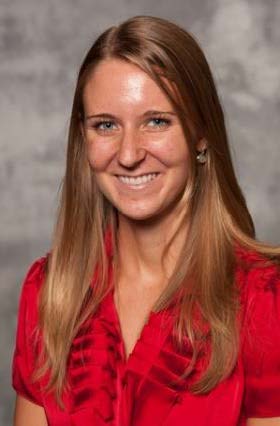 Dr. Montgomery received her Bachelor's Degree in Chemistry from Binghamton University in Binghamton, New York and her Doctor of Pharmacy from Belmont University in Nashville, Tennessee. She then completed a PGY-1 Pharmacy Residency at the Department of Veterans Affairs New York Harbor Healthcare System in Brooklyn, New York and obtained certification as a Board Certified Pharmacotherapy Specialist. Dr. Montgomery has been a Clinical Pharmacist at MSLC since 2016. She has been heavily involved in the pharmaceutical management of critically ill patients and the Pharmacist Leader of the Antimicrobial Stewardship Committee. She is also involved in several other hospital committees, including Pharmacy and Therapeutics Committee, Med Use Committee, Patient Safety Committee, Critical Care Committee, and Sepsis Committee. Her areas of interest include infectious disease, critical care, and pain management. She is committed to the PGY-1 Pharmacy Residents' academic and professional success, and personal development.
Program Overview
The PGY-1 Pharmacy Resident curriculum is designed to expose the Resident to all aspects of general hospital pharmacy practice that includes but not limited to:
Clinical pharmacy practice in Critical Care, Medical/Surgical, Emergency Medicine, Oncology, and Infusion Services
Performing medication management clinical interventions
Joint Commission and Core Measurements with Antimicrobial Stewardship, Anticoagulation Management, Opioid Use Reduction Measures, and COPD & CHF Management
Patient counseling, medication reconciliation, and pharmaceutical education
Administrative and pharmacy leadership initiatives, projects, and programs
Hospital Staff education and teaching
Precepting and educating pharmacy school students
Ambulatory Care practices with Opioid and Alcohol Use Disorder Program, CHF Management, COPD Management Program, and Diabetes Education Program
Affiliation with College of Pharmacy to obtain a Teaching Certificate
Program Structure and Require Rotations
Program Structure and Require Rotations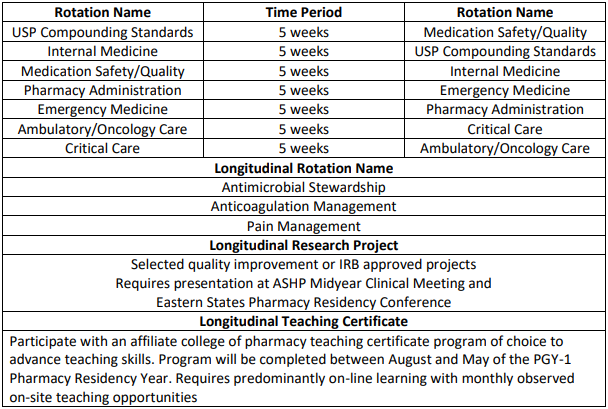 Program Preceptors
John Battiato BS Pharm, RPh - Manager of Pharmacy Services - Pharmacy Practice Management
Justin Thompson PharmD - Staff Pharmacist - USP Compounding Compliance
Olga Mironova PharmD, BCPS - Staff Pharmacist - Critical Care, Emergency Med, Med Surg
Annie Poon PharmD, BCPS - Staff Pharmacist - Critical Care, Med Surg
Rosemary Mathews PharmD - Staff Pharmacist - Critical Care, Med Surg
Justin Carino PharmD - Staff Pharmacist - Critical Care, Inpatient, Med Surg
Yvette Cruver BS Pharm, RPh - Staff Pharmacist - Oncology & Ambulatory Care
William Soja BS Pharm, RPh - Staff Pharmacist - Oncology, Inpatient & Ambulatory Care
Benefits and Residency Stipend
Our Pharmacy Residents are valuable members of our organization, and as such they have access to rich benefits afforded to all employees.
MSLC offers the following competitive salary:
MSLC offers a comprehensive and generous benefits program to all eligible employees:
Medical
Dental
Vision
Basic Life
Voluntary Life Insurance
Disability Insurance
2 weeks of vacation
Because we value our employees and their families, we offer Work-Life Balance Programs:
Health Flexible Spending Accounts
Childcare Flexible Spending Accounts
Employee Assistance Program
Discount to local childcare facilities
Discounts for event tickets and travel
Health Advocate Services
How To Apply
Application Requirements
Candidates will submit the following:
Letter of Intent
Curriculum Vitae
College Transcript(s)
Three (3) Letters of Recommendation
Submit requested material to Maggie Montgomery, PharmD, BCPS, PGY-1 Pharmacy Residency Coordinator and Clinical Pharmacist – mmontgomery@montefioreslc.org
Qualifications of the Residency Applicants
Qualifications for applicants to the PGY-1 pharmacy residency program are in accordance with the criteria set forth by ASHP
Applicants should be candidates for graduation from an accredited pharmacy degree program (or one in process of pursuing accreditation) or have a Foreign Pharmacy Graduate Equivalency Committee (FPGEC) certificate form the National Association Boards of Pharmacy (NABP)
Candidates with a Doctor of Pharmacy degree from an ACPE-accredited pharmacy degree program are preferred, but candidates with a Bachelor of Science degree in Pharmacy will be considered if they exhibit a knowledge base and abilities similar to candidates with a Doctor of Pharmacy degree
Applicants must be licensed or eligible for licensure in New York
Applicants must be citizens of the United States. Due to the short one-year duration of the PGY1 residency experience we are unable to support applicants with Visas
Applicants shall participate in and comply with the rules of the ASHP Residency Matching Program
Selection of Residents
Applications received are evaluated using a standardized evaluation tool. Candidates meeting or surpassing expectations of the residency program will be selected for an on-site or virtual interview
During the interview process, candidates will have the opportunity to meet with the RPD, RPC, Pharmacy Leadership, and Clinical Preceptors
Time will be allotted during the interview process to include a presentation on a pharmaceutical care related topic followed by a question & answer session
Expect approximately a 4-hour interview process