SLCH Welcomes New Board of Trustees Chairman
Newburgh, NY –St. Luke's Cornwall Hospital (SLCH) announced that Geoffrey L. Brackett, DPhil, has been appointed as Chairman of the Board of Trustees (BOT). Dr. Brackett has been a member of the SLCH BOT since 2011, serving as Vice Chair since 2015.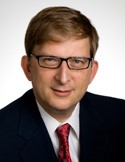 Dr. Brackett has played a key role in SLCH's transition into the new value-based era of healthcare delivery. When the hospital identified the need to collaborate with a strategic partner, he chaired the Strategic Planning Committee to guide the process. Under Dr. Brackett's leadership, the committee's work and diligence resulted in SLCH's current partnership with the Montefiore Health System, the industry leader in population health management.  

Dr. Brackett was also vital in SLCH's inclusion in the New York State Department of Health's Value Based Payment Quality Improvement Program (VBP QIP), which assists hospitals continue operations and vital services as they work toward longer-term sustainability, improved quality and alignment with the state's Value Based Payment initiatives. Under the Strategic Planning Committee's guidance, SLCH created and submitted a transformation plan that was the impetus in an infusion of resources through the VBP QIP.

The Executive Vice President of Marist College since 2010, Dr. Brackett has oversight of the College's strategic planning and annual operations and serves as chair of several operational committees. He is responsible for the direct supervision of a number of departments, including Information Technology, Human Resources, Student Affairs, Institutional Research and Planning, Buildings and Grounds, and Safety and Security. 

Dr. Brackett has been instrumental in bringing several capital projects to life during his tenure in Poughkeepsie. Recent improvements to the campus total over $200M in capital investments, among them a state of the art Science and Allied Health Building, home to a new Masters in Physician Assistants Studies and pending Doctorate in Physical Therapy.  He also oversees, among other initiatives, the long-standing Marist/IBM joint study program in which experts at IBM and Marist have pioneered innovations in enterprise computing and analytics. 

"Dr. Brackett is a dedicated community member who truly understands the demands of healthcare reform," said Joan Cusack-McGuirk, SLCH President and CEO. "He has been instrumental in the advocacy efforts necessary at the local and state levels, to transform our community hospital into a thriving health system of the future."

"St. Luke's Cornwall Hospital plays an essential role in the life and health of the Hudson Valley.  We are at a crucial turning point in the transformation of the hospital of yesterday into the health system of tomorrow," said Dr. Brackett. "I am honored and excited to serve as Chair of the Board of Trustees during such a critical period in healthcare reform."

Michelle Rider, Esq., outgoing Chair, has served as a member of the SLCH Board of Trustees since 2009. As Chair, Ms. Rider was instrumental in finalizing the hospital's strategic partnership with the Montefiore Health System and has overseen the many integration initiatives to date. 

David Potack, Vice President of Sales and Marketing at Unitex has been appointed to Vice Chair and Kevin White, Executive Director of the Boys and Girls Club of Newburgh, will take over as Secretary.

About St. Luke's Cornwall Hospital 
St. Luke's Cornwall Hospital (SLCH) is a not-for-profit community hospital with campuses in Newburgh and Cornwall, NY. The hospital is dedicated to serving the health care needs of the Hudson Valley and has achieved excellence in the delivery of compassionate and comprehensive health care services. SLCH is also recognized as an industry leader in using information technology to improve patient care, by winning the Most Wired Award for the second year in a row. In January 2016, SLCH officially partnered with Montefiore Health System to strengthen the delivery of health care locally and enhance access to exceptional specialty care for Hudson Valley residents.