MONTEFIORE ST. LUKE'S CORNWALL ANNOUNCES LAUNCH OF CENTER FOR COGNITIVE AND MEMORY SERVICES
Montefiore St. Luke's Cornwall (MSLC) is proud to announce the addition of our Center for Cognitive and Memory Services, adding to the list of services provided by MSLC's Rehabilitative Services Center in partnership with Burke Rehabilitation Hospital, on its Cornwall campus.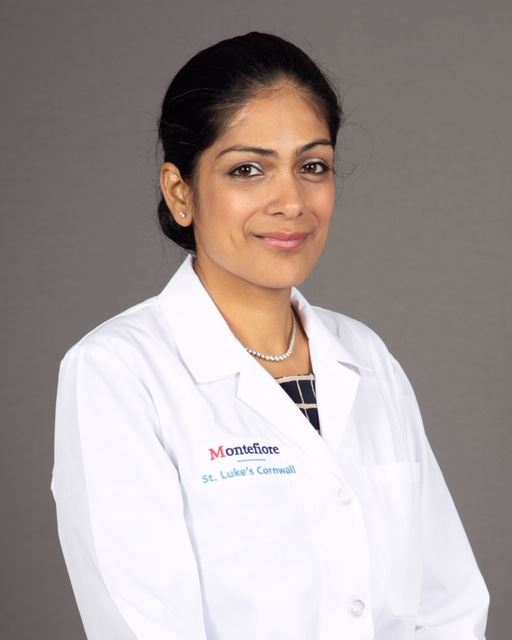 Dr. Manita Sawhney, an Internal Medicine Physician within the Montefiore St. Luke's Cornwall Medical Group, will provide comprehensive outpatient assessment and treatment of cognitive and memory disorders right here in our community. The evaluation includes a detailed examination focusing on both cognitive and memory issues, possible causes, and treatment modalities that can be provided locally, or when necessary. within the Montefiore Health System with our Burke Rehabilitation partner.
"We are so excited to announce the launch of yet another incredible program on our Cornwall campus," stated Joan Cusack-McGuirk, MSLC President and CEO. "Through our partnership with Burke and the dedication of our physicians and medical staff, we are able to provide this community with access to specialized services and quality care right here in our community."
Specialized services include: a pre-evaluation screening and intake, detailed history with a physical examination and specialized neurological exam, formal evaluation of cognitive function, diagnostic neuroimaging, clinical laboratory screening to exclude reversible causes of cognitive decline, caregiver assessment, behavioral assessment, behavioral evaluation and management, routine neurobehavioral follow up, referral to specialized services, and robust support services including patient navigation.
"Some types of memory problems are "normal" as one grows older," said Dr. Manita Sawhney. "But some problems with memory are the first signs of disease, such as depression, stroke, Parkinson's disease or Alzheimer's disease. Knowing the difference between these types of problems can be difficult, and the process can seem scary and overwhelming. Our team will work collaboratively with the patient, their family members and the necessary community partners to provide this much needed service."
To refer a patient to the Cognitive and Memory Services Center, call the Pre-Access department at (845) 458-4000, you may also email order form to the Pre-Access department at schedulingrequest@montefioreslc.org. or fax to (845) 458-4420. If you have questions about Montefiore St. Luke's Cornwall's Center for Cognitive and Memory Services, please call our Rehabilitative Services Cornwall location at (845) 458-4267.