SLCH Partners With City of Newburgh PD For Active Shooter Drill
Newburgh, NY – As part of St. Luke's Cornwall Hospital's (SLCH) ongoing efforts to ensure the safety of its patients, visitors and staff, the hospital partnered with the City of Newburgh Police Department to perform an Active Shooter Drill at its Newburgh campus on October 30. 
The drill involved three simulated scenarios to test the hospital's emergency preparedness in the instance of an active shooter situation. 
"While these scenarios are rare, preparation with our local law enforcement officers, and the ability to test our in-house security measures are extremely important," said Christopher LoPresti, Director of Security at SLCH. "I am very pleased with how our team responded. The coordination with the Police Department went very well. I would like to thank Lieutenant Frank Labrada and his entire team for their efforts, as well as SLCH Emergency Department and Human Resources staff for their participation in this drill."  
Police officers utilized their training and tactics to defuse each scenario. Earlier this year, the SLCH Trauma team provided City of Newburgh PD Stop the Bleed Training, as part of the national effort to educate the public on how to respond during a bleeding emergency. During Monday's drill, officers put the training to use, incorporating the use of tourniquets to treat each "victim."
"The simulation of real life scenarios is immensely valuable," said Lt. Frank Labrada. "I am pleased with the response of all those involved in this drill and commend our officers, as well as the SLCH security team for their response." 
SLCH continually monitors and enhances its security features, keeping the safety of all patients, visitors and staff a top priority. 
About St. Luke's Cornwall Hospital 
St. Luke's Cornwall Hospital (SLCH) is a not-for-profit community hospital with campuses in Newburgh and Cornwall, NY. The hospital is dedicated to serving the health care needs of the Hudson Valley and has achieved excellence in the delivery of compassionate and comprehensive health care services. SLCH is also recognized as an industry leader in using information technology to improve patient care, by winning the Most Wired Award for the third year in a row. In January 2016, SLCH officially partnered with Montefiore Health System to strengthen the delivery of health care locally and enhance access to exceptional specialty care for Hudson Valley residents.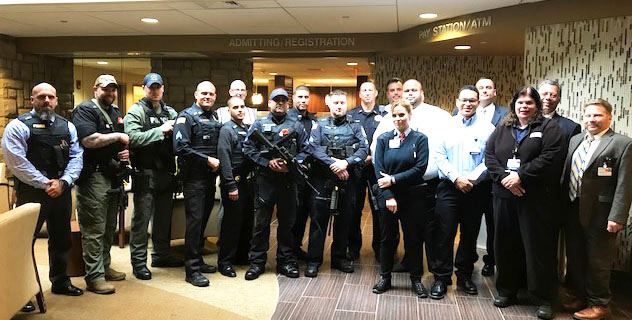 Left to right: Det. William Lahar, Det. Erik Eltz, Sgt. Brandon Rola, Sgt. Anthony Giudice, Det. Yovonne Rodriguez, PO Joseph Palermo, PO Ricardo Rivera, Sgt. Nick Cardinale, Lt. Frank Labrada, Joe Surace, Vice President of Operations, Tammy Beck, Security Officer, And rew Rodriguez, Security Supervisor, Guillermo Buendia, Security Manager, Christopher LoPresti, Director of Security, Kaitlyn McHale, Security Officer, Herminio Aponte, Security Supervisor, and John Larsen, Assistant Director of Information Technology