Welcome to Montefiore St. Luke's Cornwall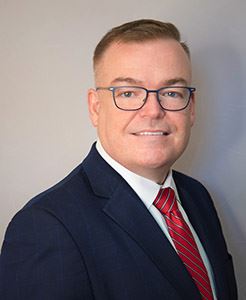 It seems like only yesterday I started my inaugural year as President and CEO of Montefiore St. Luke's Cornwall (MSLC), yet somehow, here we are on the first day of my second year. I cannot adequately express my gratitude to each of you for the support I have been provided this year. It remains my honor and privilege to continue serving MSLC, our communities, and most especially the heartbeat of MSLC, the more than 1,500 incredible employees and medical staff that keep us ticking!
This past year we forged new relationships and opportunities that supported us not only in 2022 but will support our plan for the year ahead. We took the opportunity to ensure our communities are aware of the seamless system of care afforded to us by being in the Montefiore Health System, a system that exists to serve all. Notably, MSLC's new narrative gave us an opportunity to ensure we were sending a clear message to our communities that our services are not only accessible but exceptional in caliber. These included the following MSLC recognitions; Top 5% Hospital in the Nation as per Healthgrades, a Magnet® designated organization, the highest recognition for exceptional nursing, and our employee-driven status as a "Great Place to Work™. Each derived directly from patient outcomes and the voices of our own employees, a direct reflection of our commitment to our mission, and the tireless dedication of our teams.
2022 brought many other accolades. Healthgrades announced that MSLC achieved national excellence in Stroke Care, Critical Care, Pulmonary Care, and Cardiology Services; and our organization has also been named a Top 100 Hospital in Critical Care nationally, and a Center of Excellence in Bariatric Surgery. As a community hospital with deep roots in the neighborhoods we serve, these recognitions tell our communities that not only can you trust the care, but the care is simply exceptional.
MSLC strives to fill the necessary gaps in care, and to ensure our communities have access to the services they need. 2022 brought with it the completion of existing projects, while starting some new initiatives that will broaden our footprint in the community. MSLC's Emergency Department completed its expansion, we added MRI, and construction on our new Cardiovascular Interventional Radiology Unit commenced. On the Cornwall Campus we opened our new Primary Care office which allowed us to add more providers, we opened our new imaging service facilities, and we secured funding for our Radiation Oncology Center to receive a new Linear Accelerator, doing so will decrease the number of treatments for prostate and other types of cancers, along with an updated CAT Scanner.
So, what do we have planned for 2023? Health equity will be at the top of our list, ensuring we weave equitable and affordable access to care into everything we do. Additionally, we will be laser-focused on further enhancing and increasing relationships with physicians and medical groups to ensure we are fully aligned to care for our growing communities and closing healthcare gaps to ensure healthcare remains local. One way we will achieve our goals for ensuring access to equitable and affordable care to our multispecialty Medical Group at Montefiore St. Luke's Cornwall will be the relocation of our 900 square foot Primary Care office in Newburgh, to its new, more than 5,000 square foot home on Rte. 300 in Newburgh. This move will provide our communities with a more convenient location and will have services above the normal traditional Primary Care, including walk-ins, and Occupational Health services. This is in addition to what we accomplished in 2022 by adding General and Specialty Surgery, Pain Management, and just this December, Infectious Disease. The Medical Group at Montefiore St. Luke's Cornwall will continue its growth in 2023 by aiming to close existing gaps in services locally and ensuring seamless access to our nationally and internationally recognized Montefiore Health System's network of care.
In addition to providing exceptional healthcare, MSLC has stayed true to our mission, strengthening community partnerships, not just in the realm of medicine, but also as an anchor institution in Newburgh. Earlier this year, MSLC brought leaders from the Newburgh Enlarged City School District (NECSD), SUNY Orange, and LEGOLAND® New York to provide gainful employment to more than 100 students within the NECSD. In 2023, MSLC will continue to foster these relationships, and play a larger role in developing new relationships and partnerships that address some of Orange County's greatest issues impacting healthcare, including health inequity, and transportation. We look forward to working with our elected officials, community and business leaders, as well as our local trades, to further the impact our collective efforts can have on the well-being of our communities.
In 2023, together with the Montefiore Health System, our Board of Trustees, and others, MSLC will further define our path to building our vision for the future. Our forthcoming strategic plan will be inclusive of the growth and facility enhancements necessary to continue to meet the evolving healthcare needs of the communities we serve. Further, we will begin an exciting new advertising model that will help us grow, including campaigns that truly highlight what sets MSLC apart as a leader in healthcare delivery.
As we close the gaps in care that exist across our communities, we will remain laser-focused on our communities knowing who the real MSLC is, all while providing accessible, high quality and local care. We need our communities to choose to have their services with MSLC to secure our place as a top healthcare provider in the Hudson Valley.
I am incredibly grateful for the ongoing support of our generous friends, donors, and partners while we continue our transformative journey.
Wishing you a happy, healthy, and prosperous New Year.
All the best,
Sincerely,


Daniel J. Maughan, RN, FNP-C
President & Chief Executive Officer