Trauma Team Trains Newburgh Police to Stop the Bleed
Newburgh, NY: Members of the St. Luke's Cornwall Hospital (SLCH) Trauma & Emergency Department (ED) personnel teamed up to train City of Newburgh Police (NPD) officers in "Stop the Bleed" bleeding control techniques at the Newburgh Police Headquarters earlier this week.  This program is a national campaign initiated by the America College of Surgeons Committee on Trauma and The Hartford Consensus to empower individuals to act quickly and save lives in bleeding emergencies.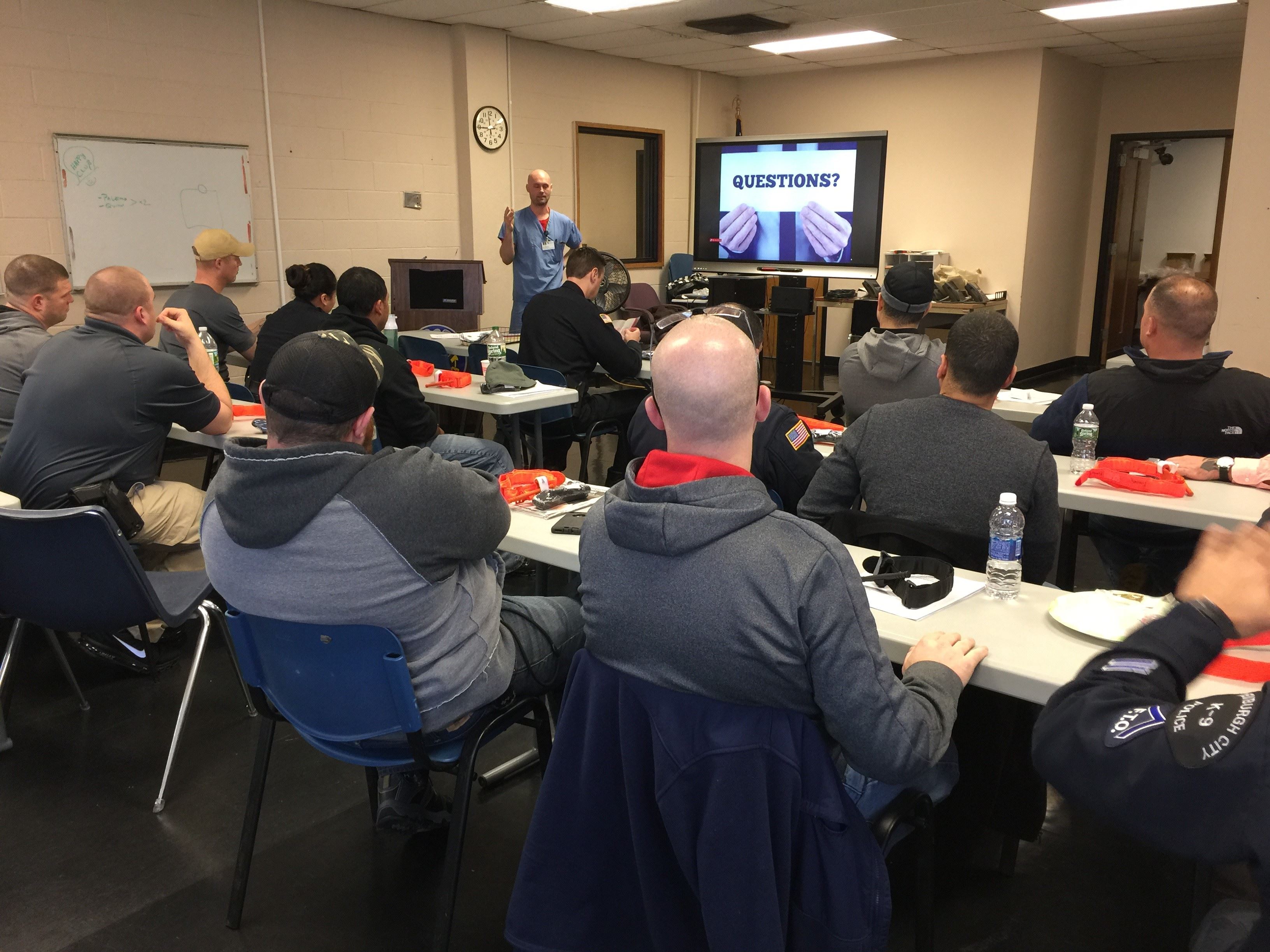 SLCH's Director of Security, Christopher LoPresti was instrumental in bringing the program to the City of Newburgh PD and was able to provide training kits which included the necessary lifesaving equipment. The Trauma and ED teams trained more than 60 law enforcement officials including members of the city's S.W.A.T team, on how to stop bleeding through the use of tourniquets.

"St. Luke's Cornwall Hospital's collaboration with the City of Newburgh Police Department to keep our community and our officers safe is second to none," said Chief Daniel Cameron of the City of Newburgh Police Department. "This week, we were privileged to receive lifesaving equipment and top-notch instruction that will undoubtedly save a life."

SLCH Trauma and Emergency Department trainers included Max Auerbach, Physician's Assistant, Kimberly Dixon, RN, BSN, Clinical Nurse Manager of the Emergency Department, and Jean Pozza, Director of the SLCH Trauma Program. 

"As a way to thank our police officers for always keeping us safe and being there when we need them, we are happy to have the opportunity to give back as a small token of our appreciation," said Joan Cusack-McGuirk, SLCH President and CEO. 

The SLCH Trauma & ED teams aim to reach as many organizations as possible for training in these lifesaving techniques when a bleeding emergency occurs. If you are interested in receiving "Stop the Bleed" training, please call 845-784-3850 or email kdabroski@slchospital.org. 

SLCH as a newly verified Trauma Center is the first verified Level III Trauma Center in New York State not previously verified or designated and the only Level III Trauma Center in the Hudson Valley.  Since its inception, the SLCH Trauma program has been implementing policies and procedures designed to enhance the care provided to patients in need of trauma service. To date, the SLCH Trauma Program has bolstered the Kaplan Family Center for Emergency Medicine as it continues to provide comprehensive, high-quality emergent care to SLCH patients and their families.

About St. Luke's Cornwall Hospital 
St. Luke's Cornwall Hospital (SLCH) is a not-for-profit community hospital with campuses in Newburgh and Cornwall, NY. The hospital is dedicated to serving the health care needs of the Hudson Valley and has achieved excellence in the delivery of compassionate and comprehensive health care services. SLCH is also recognized as an industry leader in using information technology to improve patient care, by winning the Most Wired Award for the second year in a row. In January 2016, SLCH officially partnered with Montefiore Health System to strengthen the delivery of health care locally and enhance access to exceptional specialty care for Hudson Valley residents.