SLCH Cuts Ribbon on New Service in Cornwall
Cornwall, NY: St. Luke's Cornwall Hospital officially cut the ribbon on the opening of its Institute for Metabolic and Bariatric Surgery's newest office, located within the hospital's Cornwall campus. More than 50 community members, SLCH board leadership, physicians and staff attended the event.

The Institute is led by Medical Director Wayne Weiss, MD, FACS of Tri-State Bariatrics. The team also includes Jaime Cepeda, MD, FACS and Ramon Rivera, MD, FACS and Jennie Drexler-Ferraioli RN, MSN, CCRN, Director of the Bariatric Program. SLCH officially launched the program in January 2015, has seen tremendous growth its first two years, with just over 100 patients in its first year and more than 215 in 2016.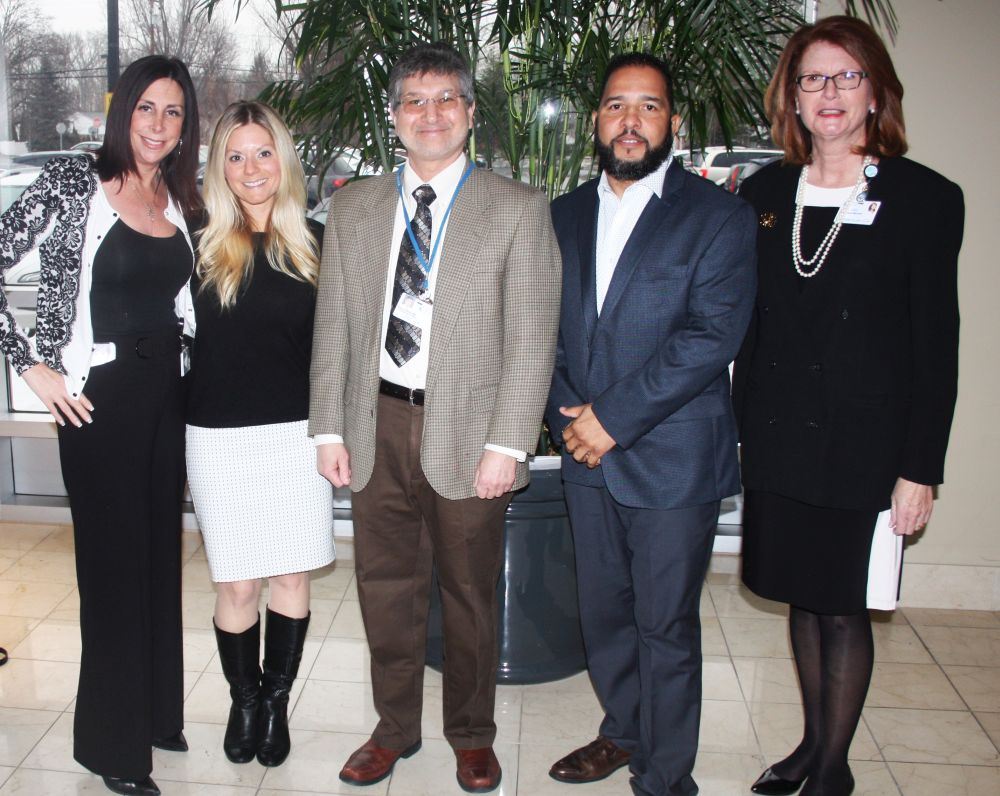 Metabolic and Bariatric Surgery at SLCH includes Sleeve Gastrectomy, Lap-Band Surgery as well as Gastric Bypass. The team provides patients with continued support and information throughout their weight loss journey, including extensive pre and post-operative education.

"So much is changing in healthcare today, and as a hospital, and vital access provider, we must look to expand our services to best meet the needs of the community we serve," said Joan Cusack-McGuirk, SLCH President and CEO. "The addition of bariatric surgery at SLCH has been tremendous. We are filling a gap in care that previously existed in the community."

The program's new office location in Cornwall provides patients with ease of access and the ability to complete their pre and post procedure follow up close to home. 

"It has always been our belief that to best serve the vast population of the mid and lower Hudson Valley, a Bariatric Surgery program with clinical locations within that geography is essential," said Dr. Wayne Weiss. "Through the combined efforts of Tri-State Bariatrics and the St. Luke's Cornwall system, that dream has now been realized."

Just last week, SLCH received notification that their application for inclusion into the Metabolic and Bariatric Surgery Accreditation and Quality Improvement Program was accepted, which is a component of the American College of Surgeons and national standard for oversight and accreditation for Bariatric Surgery across the nation. 

About St. Luke's Cornwall Hospital 
St. Luke's Cornwall Hospital (SLCH) is a not-for-profit community hospital with campuses in Newburgh and Cornwall, NY. The hospital is dedicated to serving the health care needs of the Hudson Valley and has achieved excellence in the delivery of compassionate and comprehensive health care services. SLCH is also recognized as an industry leader in using information technology to improve patient care, by winning the Most Wired Award for the second year in a row. In January 2016, SLCH officially partnered with Montefiore Health System to strengthen the delivery of health care locally and enhance access to exceptional specialty care for Hudson Valley residents. 
​