SLCH Named 5 Star Recipient for Vaginal Delivery
Newburgh, NY – St. Luke's Cornwall Hospital announced today that it has been named a 5-star recipient for Vaginal Delivery by Healthgrades, the leading online resource for comprehensive information about physicians and hospitals. This 5-star rating indicates that the hospital's clinical outcomes are statistically significantly better than expected when treating the condition or performing the procedure being evaluated. It is the third consecutive year SLCH has received the 5-star distinction in this category.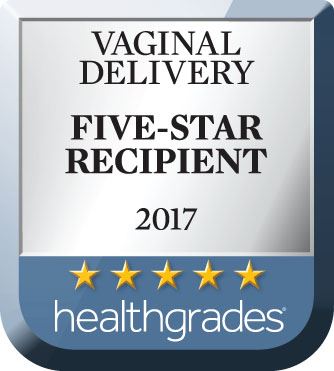 "This recognition is another example of the high-quality, patient-centered care that St. Luke's Cornwall Hospital provides," said Joan Cusack-McGuirk, SLCH President & CEO. "Bringing a newborn into the world can be one of life's most exciting and significant experiences. Our birthing center and neonatal intensive care unit staff consistently make sure that new families have the most comfortable and safest experience possible."
"Consumers place high-quality outcomes at the top of their wish list when selecting a hospital, so health systems that have achieved this particular distinction stand out among their peers," said Brad Bowman, MD, Chief Medical Officer, Healthgrades. "Especially in an environment where consumers have more choices than ever before about where to receive care, a hospital's commitment to achieving high-quality outcomes for their patients is more important than ever."
To help consumers evaluate and compare hospital performance, Healthgrades analyzed all-payer state data for 17 states for years 2013 through 2015. Healthgrades found that there is a significant variation in hospital quality between those who have received 5-stars and those who have not. For example:
From 2013 through 2015, patients having a Vaginal Delivery in hospitals with 5-stars have, on average a 54.9% lower risk of experiencing a complication while in the hospital than if they were treated by hospitals with 1-star.*
*Statistics are based on Healthgrades analysis of All-Payer data for years 2013 through 2015 and represent 3-year estimates for patients in 17 states for which all payer data was made available. (See 2017 Healthgrades Women's Care Rating Methodology for more details)
The St. Luke's Cornwall Hospital Birthing Center features some of the newest technologies in the industry, including a wireless fetal monitoring system that allows women in labor to walk freely throughout their labor room. In addition, SLCH labor and delivery rooms include private bathroom and shower, as well as private and semi-private recovery rooms. Birthing suites for labor, delivery, recovery and post-partum (LDRP) are also available to allow new mothers to remain in the same room throughout their entire birthing experience. The facility also includes a private lactation room where families can utilize all of SLCH's breastfeeding resources, and a comprehensive infant security program.
The SLCH Birthing Center utilizes a family-centered model of care, communicating with members of a new mother's support network to ensure there is an understanding of how to care for both the mother and baby before they leave the hospital. A certified lactation consultant also provides assistance and education on breastfeeding techniques and nutrition.
Weekly tours of the SLCH Birthing Center are available on Sundays at 2 p.m. Families can make a reservation by calling (845) 568-2365. Private tours may also be arranged.
The Elaine Kaplan Neonatal Intensive Care Unit, located just steps away from the Birthing Center, offers acute and chronic care for premature and ill full-term infants throughout the region. The first Level II NICU in Orange County, the facility's state-of-the-art diagnostic and treatment tools allow the specially-trained team to continuously monitor an infant's condition, deliver fluids, nutrition and medication, as well as monitor vital signs.
View Healthgrades hospital quality methodologies.
Learn more about how hospitals partner with Healthgrades.
About St. Luke's Cornwall Hospital
St. Luke's Cornwall Hospital (SLCH) is a not-for-profit community hospital with campuses in Newburgh and Cornwall, NY. The hospital is dedicated to serving the health care needs of the Hudson Valley and has achieved excellence in the delivery of compassionate and comprehensive health care services. SLCH is also recognized as an industry leader in using information technology to improve patient care, by winning the Most Wired Award for the second year in a row. In January 2016, SLCH officially partnered with Montefiore Health System to strengthen the delivery of health care locally and enhance access to exceptional specialty care for Hudson Valley residents.