SLCH Earns Most Wired Recognition For Second Straight Year
Newburgh, NY - For the second straight year, St. Luke's Cornwall Hospital (SLCH) has been recognized as an industry leader in using information technology to improve patient care. In addition to its inclusion on the 2015 Health Care's Most Wired list, SLCH is just one of just three hospitals in the nation to receive distinction as a 2015 Most Wired Innovator.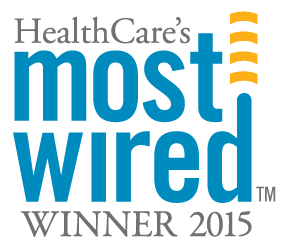 The 17th annual Most Wired™ survey and benchmarking study, is a leading indicator of how hospitals nationwide are adopting information technology. The survey, which represented 2,213 hospitals, examined how organizations are improving performance for value-based healthcare in the areas of infrastructure, business and administrative management, quality and safety, and clinical integration. 

This year's survey focused heavily on the security of health-related data.

"Network security was at the forefront of the Most Wired survey in 2015," said Cletis Earle, SLCH Vice President, Chief Information Officer.  "There was a, 'raising of the bar,' to see if the hospitals being surveyed were in compliance with the National Institute of Standards and Technology certified security standards. It has always been a challenging survey, but with the added security portion, it became extremely difficult. We passed not only from that perspective, but other reporting structures centered on quality and information sharing." 

The Most Wired Innovator achievement is based on our implementation of AliveCor Mobile ECG monitors. Through the use of the device that attaches to their smart phone, patients are able to produce a 30-second heart rhythm by holding the device in their hands. The results can be 
e-mailed directly to a physician, which can speed up the diagnostic process by days and keep patients from having to be admitted to the hospital. 

"With the ever-increasing use of technology throughout the healthcare system, protecting our patients' information and providing access to the latest advancements in care are vital to our future," said SLCH Interim President and CEO Joan Cusack-McGuirk. "These two recognitions are prime examples of how our clinical and support teams are working together to make sure we are providing our patients with the highest possible standard of care."
The Most Wired Innovator Award was determined by a panel of hospital and information technology leaders who evaluated submitted essays on achievement of business objective, creativity and uniqueness of concept, scope of solution and impact on the organization.

"The Innovator Award really covered the New York State Triple Aim of improving population health, enhancing quality and reducing costs," Earle said. "We worked to made sure the payer, patient and both the physicians and the hospital actively engaged to create a positive outcome."
   
The only other two organizations to receive this honor were the University of Pennsylvania Health System and St. Joseph Mercy Oakland in Pontiac, Mich. 

"We commend and congratulate this year's Most Wired hospitals and their CIOs for improving care delivery and outcomes in our nation's hospitals through their creative and revolutionary uses of technology," said College of Healthcare Information Management Executives (CHIME)  CEO and President Russell P. Branzell. "The Most Wired organizations represent excellence in IT leadership on the frontlines of healthcare transformation. 

SLCH was one of just 15 hospitals in New York State to receive a Most Wired designation.

St. Luke's Cornwall Hospital (SLCH) is a not-for-profit community hospital with campuses in Newburgh and Cornwall, NY. The hospital is dedicated to serving the health care needs of the Hudson Valley and aspires to excellence in the delivery of compassionate and comprehensive health care services. SLCH offers comprehensive cardiac, stroke, cancer, orthopedic services and a full range of other clinical offerings.