Thank you to our Sponsors, Donors, and Friends For Your Continued Support!
Thank you to all who tuned in to our first ever, virtual Gala on Saturday! While we all wish we could have enjoyed an evening under the stars adjacent to the Hudson River, it was a truly wonderful way to pay tribute to our incredible honorees and celebrate together safely from a distance.
If you were unable to tune in, the full program can be viewed here: https://youtu.be/9EpFD8bFDcU
Thank you for your ongoing support of not only this event, but of MSLC!

MSLC Silent Auction is Live!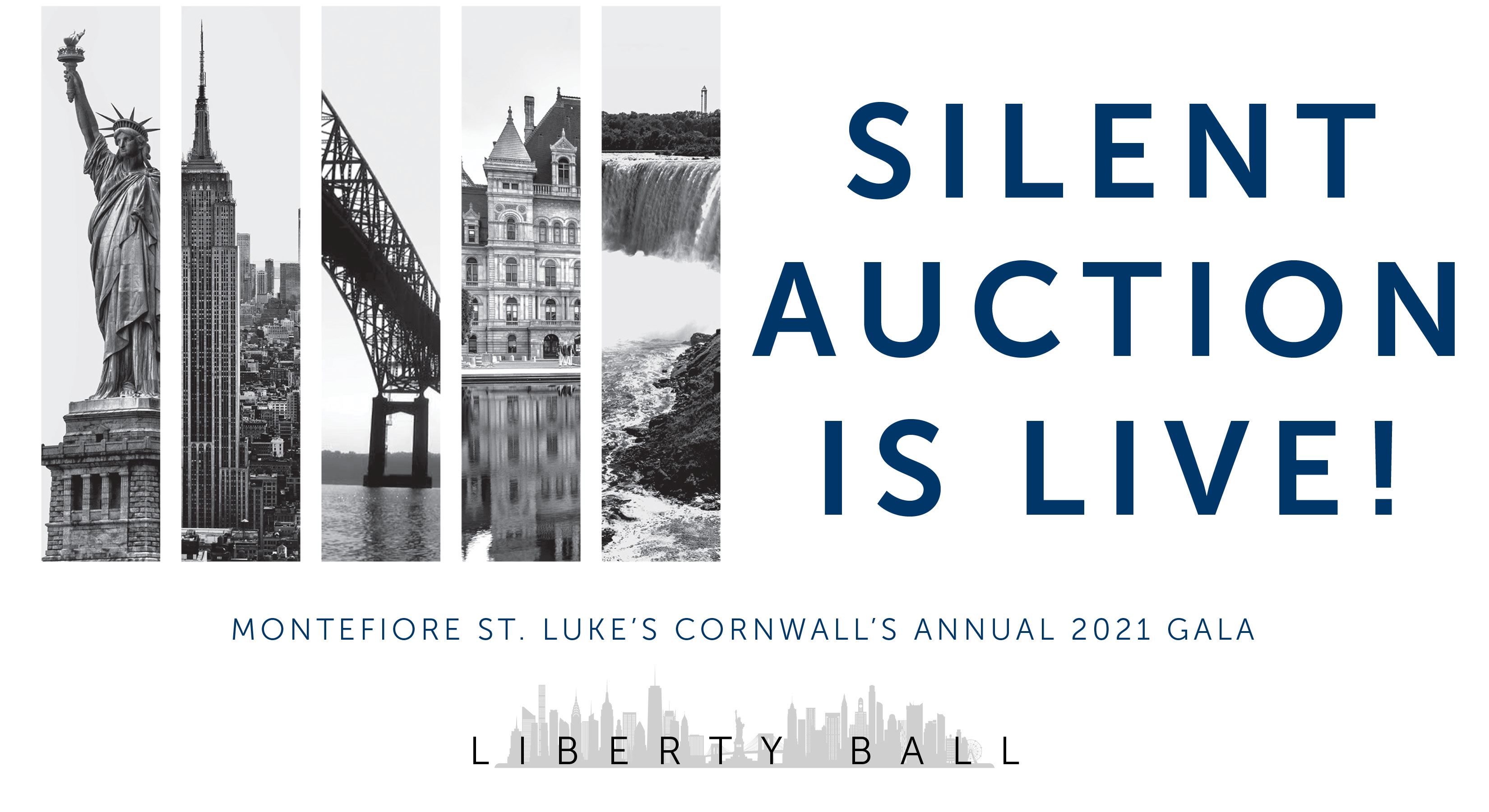 To view a full list of items and to make a bid, visit the link below!
Silent Auction Link will be live through midnight September 30th:
Our 2021 Gala Will Be a Virtual Experience
Dear Supporters and Friends of Montefiore St. Luke's Cornwall,
The Montefiore St. Luke's Cornwall (MSLC) annual Gala is one of the highlights of our
year. The Gala provides an opportunity for our friends, sponsors, and supporters throughout our communities to celebrate the outstanding achievements of our Honorees, our staff, and the amazing work accomplished throughout all of MSLC's services. The Gala not only represents our opportunity to celebrate the exceptional care provided at MSLC, it also represents our largest fundraising opportunity. In 2020, COVID-19 made our Gala impossible, however, our amazing Honorees asked us if they could step aside so that our staff could be the beneficiary of being recognized for their heroism. Another testament to the Honorees and their support of MSLC's mission.
This year, the Delta Variant of COVID-19 has increased both community spread and hospitalizations, deeply impacting the communities we serve. As the largest healthcare leader in our community, MSLC strongly advocates and supports The Centers for Disease Control (CDC) recommendations and efforts to reduce the spread of COVID-19. We have gone to great efforts in keeping our patients, staff, and community safe from exposure to this horrible virus, and we cannot ever waver on our commitment to doing so. As such, and while not the way we wished to celebrate the Gala with all of you this year, we have decided that we must responsibly move this year's Gala to a "Virtual" platform.
Although we will miss seeing you in person, this year's Virtual Gala will be a show stopper! The virtual gala allows us the opportunity to celebrate our outstanding Honorees, County Executive Steve Neuhaus, and The MSLC Orthopedics, Spine, and Podiatry service line. Furthermore, our "Virtual" Silent Auction will be packed with exciting items to bid on, with all proceeds going to support the efforts of MSLC, and trust me, some of these items you will not want to miss out on!
I sincerely hope you can join us on September 18 to celebrate our Honorees, bid on some amazing items, and show your support for MSLC! Details will be forthcoming regarding the event program and virtual format. If you have previously purchased a ticket or submitted a sponsorship we will be in touch with you directly regarding next steps.
On behalf of the MSLC Board of Trustees, myself, the Foundation Board of Directors, and every single hero on the MSLC team, we thank you for your continued support and look forward to your continued participation in the 2021 MSLC Virtual Gala!
Warmly,
Joan Cusack-McGuirk
Chief Executive Officer
---