MSLC Kicks Off ED Expansion Project

(L-R)  Chris Rhynehart, Manager, MSLC Emergency Department, Dr. Sachin Shah, MSLC Chairman of Emergency Medicine  Dr. Irina Gelman, Orange County Commissioner of Health, Daniel Maughan, MSLC Senior Vice President of Transformation, Jack Holt, Holt Construction, David Potack, Chairman, MSLC Board of Trustees, Senator William Larkin, Joan Cusack-McGuirk, MSLC President and CEO,  William Kaplan,  Joan Kaplan, Dr. Geoffrey Brackett, MSLC, Board of Trustee Member, Austin Dubois, MSLC Board of Trustee Member, Joe Surace, SLCH Vice President of Operations, Kathy Sheehan, MSLC Director of Emergency and Trauma Services, Kurt Baur, DI Group Architecture  
Newburgh, NY – The renovation and expansion of Montefiore St. Luke's Cornwall's Kaplan Family Center for Emergency Medicine officially began Tuesday morning with a ceremony at the hospital's Newburgh campus. The project, announced in November 2017 and funded by an $8M grant from the New York State Department of Health's Statewide Health Care Facility Transformation Program, will make physical enhancements to improve the care and efficiency for patients.
The plan calls for the addition of an MRI Suite, 10-bed Observation Unit, increased triage space to assess patients, and increased ambulance parking.
"This was an exciting day for Montefiore St. Luke's Cornwall and the communities we serve," said MSLC President & CEO Joan Cusack-McGuirk. "We made a commitment to our patients and the community that MSLC would continue to transform healthcare delivery, and today we are delivering on that promise."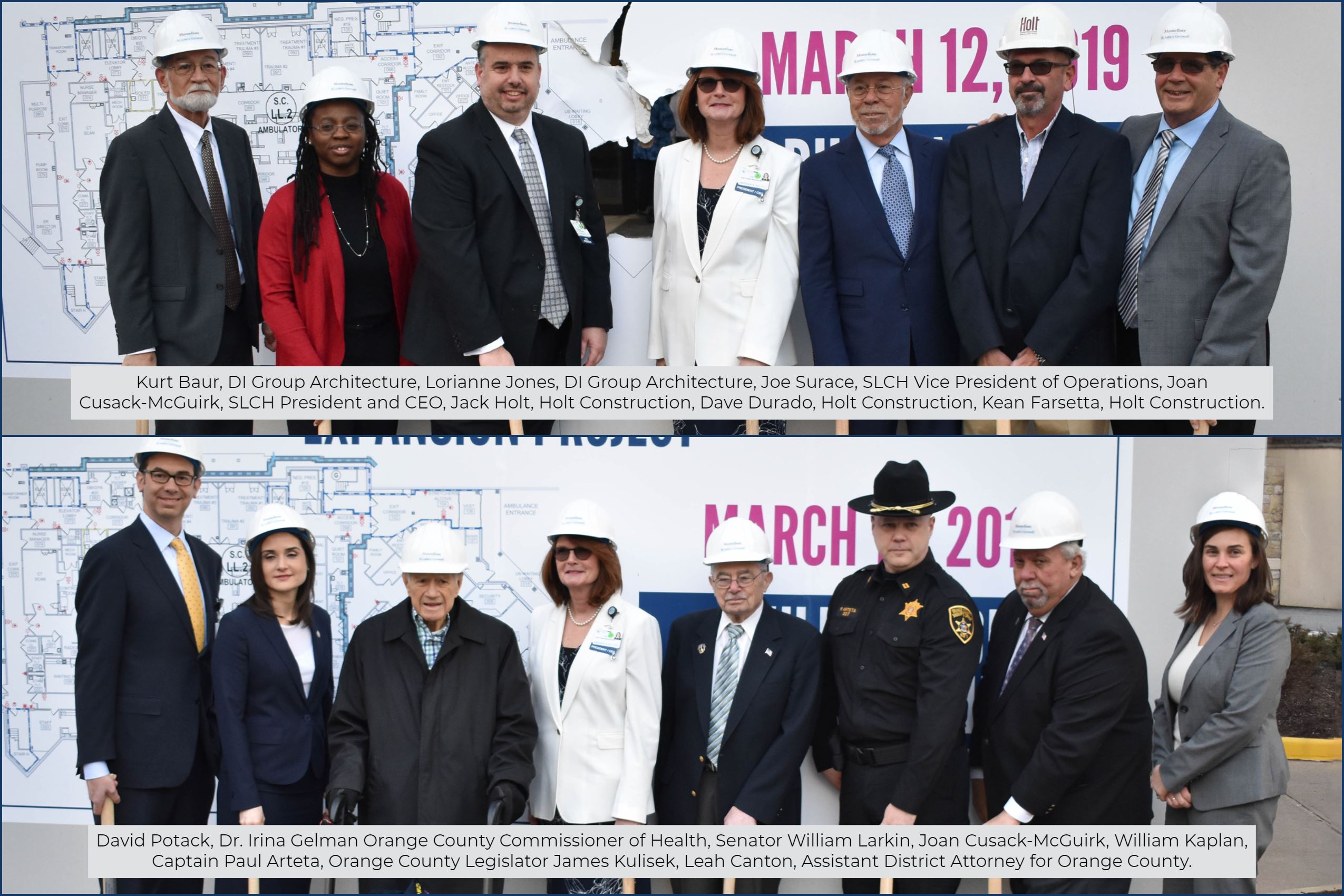 The specific improvements include added triage space and expansion of Fast Track to improve patient flow and allow for faster patient assessment; an Observation Unit that provides a centralized area to treat patients who need additional care but not necessarily inpatient admission; an MRI suite to give patients the ability to receive all their diagnostic testing without being transferred; and expanded parking for EMS providers that improves patients' transition of care.
DI Group Architecture designed the new space, while Holt Construction will handle the building and renovation activities.
Several elected officials and their representatives who have continuously advocated for the growth of Montefiore St. Luke's Cornwall were on hand to commemorate the start of the project. 
Also, in attendance were the Montefiore St. Luke's Cornwall Board of Trustees, hospital leadership, the Montefiore St. Luke's Cornwall Health System Foundation Board of Directors, retired Senator William Larkin, and longtime MSLC supporters, the Kaplan family, including Mr. William Kaplan and Ms. Joan Kaplan. 
MSLC's Emergency Department is a verified Level III Trauma Center. The project is expected to take 18 months to complete. 
About Montefiore St. Luke's Cornwall 
Montefiore St. Luke's Cornwall (MSLC) is a not-for-profit community hospital with campuses in Newburgh and Cornwall, NY. The hospital is dedicated to serving the health care needs of the Hudson Valley and has achieved excellence in the delivery of compassionate and comprehensive health care services. The Joint Commission noted MSLC for excellence in Key Quality Measures in the management of Heart Attack, Heart Failure, Stroke and Surgical Care. MSLC is also recognized as an industry leader in using information technology to improve patient care, by winning the Most Wired Award for the fourth year in a row. In January 2018, MSLC officially became part of the Montefiore Health System to strengthen the delivery of health care locally and enhance access to exceptional specialty care for Hudson Valley residents.