NICU Holds 17th Annual Celebration
Newburgh, NY- Nearly 300 guests, including former patients, families and staff, were on hand for the 17th Annual Elaine Kaplan Neonatal Intensive Care Unit Graduate Birthday Party at Ice Time Sports Complex on Saturday, July 19. Hosted by the St. Luke's Cornwall (SLC) Auxiliary, the event celebrated the many positive outcomes Dr. Prabhakar Kocherlakota (Dr. KP) and the NICU staff have fostered during the past 17 years.
Children and families enjoyed a fun-filled atmosphere that included a balloon artist, a bouncy house, and a decorate-your-own cupcake station.
"It always brings us a great amount of joy to see these vibrant and healthy former patients and their families," Dr. KP said. "Our staff is dedicated to providing the highest quality care to our patients and ensuring each family is cared for. This event is a great way to celebrate and remember each of their stories."
Since its inception in 1997, the NICU has cared for premature infants and term newborns with infections, birth defects, breathing difficulties and growth restriction. Named after the late Elaine Kaplan, a local philanthropist who, along with her family, identified the need for enhanced health care for infants in this community, the Level II Unit provides a transport service for critically ill babies born at hospitals without neonatal expertise.
"This is definitely one of the highlights of the year," said Jill Cappa, Chair of the SLC Auxiliary and NICU Committee. "Each and every one of these families has a great story to share, and it truly touches our hearts to see how healthy and happy these children are. The success of this event is a testament to the work being done by Dr. KP and his staff."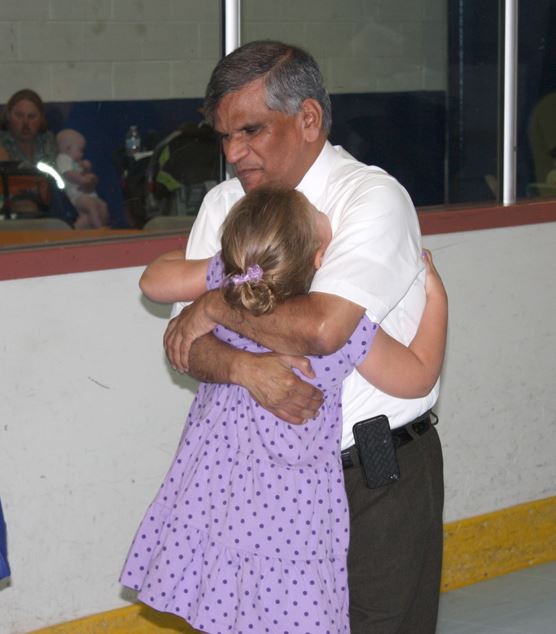 The food, venue and entertainment were all donated by local businesses and community members. Stewart's Shops sponsored the event and donated the ice cream, while Ice Time Sports Complex provided the venue at no cost. Other organizations that donated items to support the party included Rockland Bakery, A&T House of Bounce, Thomas O. Miller & Company, Adams Fairacre Farms, Durant's Party Rentals, Hannaford Supermarket, Herr's, Price Chopper, Mrs. Patricia Garrison, SportsPlex of New Windsor, St. Thomas of Canterbury Church Bingo, Cappa Podiatry, New England Orthotic & Prosthetic Systems, Little Italy Bakery, ShopRite of Vails Gate, BJ's Wholesale Club of Monroe, Stop & Shop of Monroe, Mobile Life Support Services, Musical Munchkins, SLCH Cardiovascular, Dr. KP and Dr. Maria David.
St. Luke's Cornwall Hospital (SLCH) is a not-for-profit community hospital with campuses in Newburgh and Cornwall, NY. The hospital is dedicated to serving the health care needs of the Hudson Valley and aspires to excellence in the delivery of compassionate and comprehensive health care services. SLCH offers comprehensive cardiac, stroke, cancer and orthopedic services and a full range of other clinical offerings. For more information, go to http://www.stlukescornwallhospital.org/ orhttp://www.facebook.com/stlukescornwallhospital.